It was only a matter of time. Due to the instability of the eastern Mediterranean area, several well-known cruise lines are now cancelling their stops in Turkey.
It has been announced that Crystal, Norwegian Cruise Line, Regent, Celebrity Cruises, Azamura and Disney, will by-pass Istanbul and Kusadasi. Those are the primary ports used by cruise ships.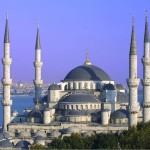 Many instead will stop at the Greek ports of Souda Bay/Chaina, Navplion, Hydra, Athens, Patmos and Rhodes. Disney announced that they will vacate the eastern Med entirely and skip Athens and Mykonos, Greece and Valletta, Malta. They will be seeing Monte Carlo and points in that area  instead.
It could be that they are avoiding Greek waters since, by international agreement, ships MUST pick up refugees at sea. What they do with them next is to return them or give them safe harbor.
It's unknown when these restrictions will be lifted. Things have just gotten too tentative to risk the area.  I am glad we have been to Istanbul twice as well as the attractions around Kusadasi which lies to the south. Yes, I was a speaker.  Far below these areas lies Syria. Not a good idea when terrorists and war planes are buzzing.
The lines take every step to ensure the safety of passengers and this action seems appropriate. A few lines are making no changes, however. Royal Caribbean International, Saga Cruises, Seabourn Cruises, Silversea Cruises, Thomson Cruises, Viking Ocean, and Windstar Cruises are all continuing their planned itineraries.
Let's talk about your interest in sailing for free by speaking.